How to properly care for your Rolex Watch
Rolex watches are known for both their precision and elegance. This sterling combination of functionality and beauty may be the reason why these treasured possessions command such a high price. If you own a Rolex and want to cherish it forever, learning how to take proper care of your watch is essential. A simple care and maintenance regimen will not only keep your Rolex in perfect functioning condition, but also ensure it looks brand new each and every time you wear it.
The basic care and maintenance for Rolex watches includes the following steps:
Wear Your Rolex Regularly
Regular wear and use of your Rolex Watch will keep the watch in perfect running condition. By doing so, you can maintain the viscosity of the lubricants in the movement. If not used on a regular basis, these lubricants may harden, causing friction within the movement. Eventually, this friction may damage the functionality of the movement. If you do not wear your Rolex regularly, make sure to wind it at least once a week. This will keep the watch gears moving, thus preventing the lubricants from hardening, and your watch will maintain accurate timekeeping.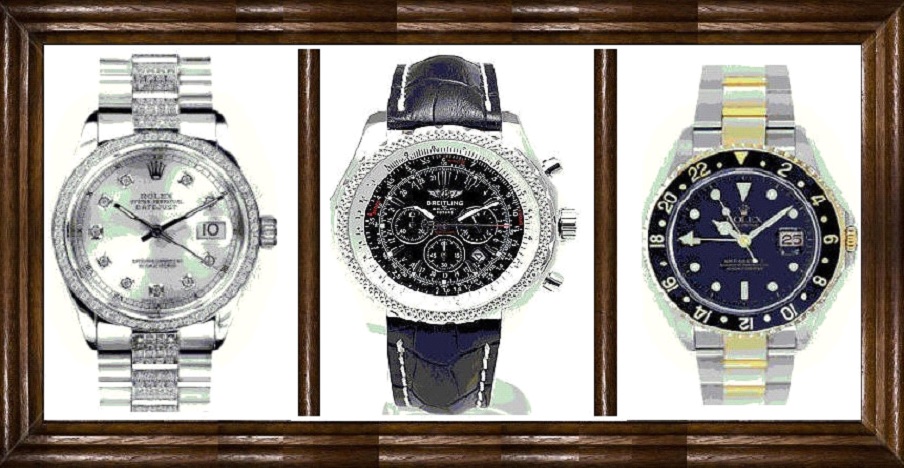 Clean Your Rolex
Like any other work of intricate artistry and technology, a Rolex requires occasional cleaning and upkeep. There are many places on the watch where dirt, body oils, and other greasy particles accumulate; such as between the links on the bracelet, the area joining the case and the bezel, and around the Cyclops lens. With repeated use and the gathering of dirt particles, your watch will require a thorough cleaning as described here.
Before you start cleaning:
Make sure the winding crown is tightly screwed onto the case
Wash your hands thoroughly with soap or hand wash
Use lukewarm water to rinse off your watch
Fill a bowl with lukewarm water and ammonia-free mild soap
Apply this soapy water all over your watch using your hands
Now, gently scrub the watch to clean it of all dirt particles. Your old toothbrush can be used as an ideal scrub for this purpose. During scrubbing
Submerge the watch and the toothbrush into the soapy water at short intervals
Once you are confident that the Rolex has been cleaned, rinse the watch with lukewarm water
Using a clean and soft cotton cloth, gently pat the watch until dried
Since your cloth may not reach the links on the bracelet, you can use a blower or hair dryer to remove the excess water from the inner surface of the links
To complete the process, you may use a clean dry cloth to remove any remaining moisture
Removing Scratches From the Bracelet of Your Rolex Watch
The bracelet of your Rolex needs special care, as it is prone to scratches. This is especially true of the Oyster bracelet which features polished center links. By polishing the bracelet once every few months, you can retain the brand new look of your Rolex forever. You can easily remove the scratches from the polished center links with little effort and time expended. All you need is a good quality polishing cloth such as one used with products designed for removing scratches from polished stainless steel and gold surfaces. A good polishing cloth comes soaked in a special liquid meant for polishing. These polishing cloths are inexpensive and can be used multiple times.
When using the polishing cloth on the surface of your bracelet, there are several things you should keep in mind:
Removing Scratches from the Bracelet of Your Rolex Watch:
Make sure you use the cloth only on the polished surface of your bracelet. If you use it on the non-polished surface, it will damage the brushed finish
One way to avoid polishing the brushed surfaces is to use a Q-Tip, wrapping the polishing cloth around its head and carefully restricting the buffing movement to the targeted areas
Do not exert too much pressure while polishing; only a moderate amount of pressure is needed
Avoid using circular or cross strokes while polishing. Instead, try to follow the flow of the metal. In other words, go with the grain of the surface (not against the grain)
A minute of polishing usually is enough to remove the fine scratches that appear like hairlines. You may need to devote more time, however, if the scratches are deeper or more prominent
Finally, avoid polishing surfaces that have no scratches. You will end up removing a fine layer of metal from the surface by way of polishing because the surface has not suffered any indentation in the form of a scratch. In these areas, less is more.
Winding Your Rolex
Rolex watches (except Oysterquartz) have perpetual movement which means they are self-winding. On average, Rolex watches have a power reserve of 48 hours. If not wound after 48 hours, your Rolex will stop running and appear "dead." Is this situation, however, you can manually wind your watch. Simply unscrew the crown to position 2 and wind it about 30 to 40 times; once you have done this, simply screw the crown back down and continue to use your watch as normal
A few points to consider while winding your watch include the following:
Winding your Rolex while wearing it on your wrist should be avoided
If found "dead" or in a non-functioning mode, do not shake your watch
Even after you have wound it, do not shake the watch if it does not start working. Simply rotate your wrist gently, which will allow the watch to
If the watch still does not start, rather than shaking and possibly damaging your Rolex, simply put the watch aside and allow it to start on its own
Never worry about over-winding your watch as every Rolex has a built-in protection mechanism which prevents the movement from being over-wound
Waterproof Rolex
Most of the Rolex watches come with a tested and guaranteed depth rating of 330 feet. This waterproofing means that not only can you take a shower while wearing your watch, but you can also swim with it. Deep water diving, however, should be avoided while wearing most Rolex watches. For such demanding aquatic situations, Rolex has created the Submariner and the Sea-Dweller models. While diving with these models, make sure the winding crown is tightly screwed down onto the case, as otherwise there is a chance the case may flood with water, ultimately damaging your watch. As a general guideline, if you own or choose to purchase a non-diver Rolex watch, treat it as no more than moderately water resistant due to the age and custom craftsmanship involved in its production. To be safe, we suggest the watch not be worn while swimming or even showering, although a slight amount of water contact such as may occur while washing your hands is manageable. By treating your Rolex with the respect and care that such a great treasure deserves, you will continue to enjoy a machine that looks and functions as a brand new watch for decades to come.
Please bring your Rolex Watch to Village Watch Center for any questions and care you may need.