IWC Portuguese Perpetual Calendar Watch
Watch enthusiasts will immediately recognize the iconic Portuguese Perpetual Calendar Watch manufactured by International Watch Company (IWC) in Schaffhausen, Switzerland. Those who are shopping for new watch should take a good long look. You'll be hard pressed to find a better designed, more stunning, luxury watch on the market today. This watch was introduced in 1939 and today remains the most popular and recognizable IWC watch in existence. 
We Service, Sell (New & Used) & Repair IWC Products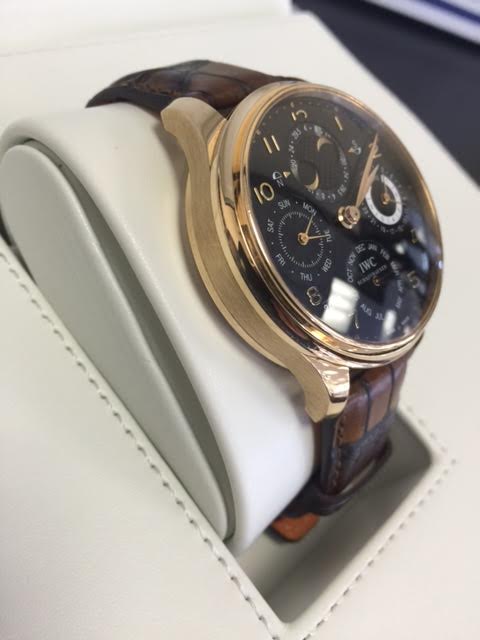 At Village Watch Center we service, repair and sell this fine timepiece in both new and used condition. With its Swiss-made automatic movement and 18k gold case and bezel you should leave nothing to chance. Any maintenance or service done on a watch of this caliber should be performed by an experienced watchmaker. You can trust in the skilled craftsman at Village Watch Center to handle your prized possessions with the ultimate care and concern. 
We Have New & Like New IWC Portuguese Perpetual Calendar Watches for Sale! 
The world's most powerful and successful men can be seen wearing IWC luxury watches. Presidents, Fortune 500 CEOs, business owners and millionaires. The luxury timepieces they wear are classic possessions that speak volumes about their refined wealth without saying a word. If you are in the market to buy a new or like new, IWC Portuguese Perpetual Calendar Watch, Village Watch Center would love to serve you. We have warranties on our new and used watches.
Reasons to buy a luxury watch
There are many reasons why people purchase luxury watches like the IWC Portuguese Perpetual Calendar Watch. They want quality, reliability, durability and precision involved with their time keeping. They enjoy well-respected name brands as they are easily recognized and held in high esteem. They make excellent heirlooms and are an incredible investment value due to the materials used in the watchmaking process.