Why Everyone Should Own an Atmos Clock & Its Benefits
The Atmos clock was invented in 1928 by Jean-Léon Reutter and today is manufactured by the Jaeger LeCoultre Company, in Vallée De Joux, located in the Swiss Jura Mountains. These watches are unique as they extract energy from temperature variations, allowing perpetual motion. Aside from having a taste for exquisite items, there are many benefits to owning an Atmos clock. 
Benefits of Owning an Atmos Clock;
The luxurious look and feel 
It never has to be wound
It requires no batteries 
It requires no electrical consumption
The parts do not wear out
It's quiet
It will run for 600 years
It's an excellent heirloom
It's an investment
How an Atmos Clock Works
There is a sealed capsule inside the clock that holds a mixture of gas and liquid. The gas and liquid expand when the temperature rises and contracts when it falls. This routine makes the capsule move which constantly manipulates the mainspring, essentially allowing it to self-wind. The slightest temperature variation will allow for days of operation. Because the temperature is constantly fluctuating, the Atmos clock will run forever, even if left untouched.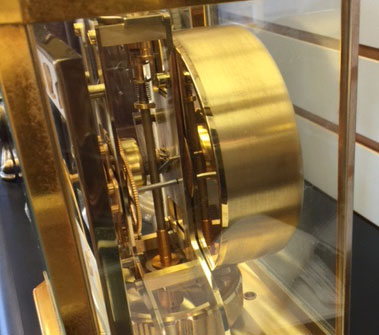 Village Watch Center Sells, Repairs & Refurbishes Atmos Clocks
Due to today's environmental issues such as pollution, a cleaning and inspection is recommended every twenty years. At Village Watch Center we sell, repair and refurbish Atmos clocks. Stop in for an estimate and let us put thirty years of experience to work for you. We specialize in high-end repairs including brands like Rolex, Jaeger LeCoultre, Omega, Longines, Movado, Patek Philippe and Chopard.
Atmos Clocks Will Not Make You Famous!
Owning an Atmos clock will not make you famous but it will give you something in common with presidents, movie stars and the rich and famous. These clocks are environmentally friendly and they keep precise time. They make wonderful heirlooms to pass down to future generations and they can be an investment.