Why own a Swiss Army Watch?
Victorinox Swiss Army Classic Chronograph is rugged enough for any adventure yet practical enough for everyday wear. It comes with a leather bracelet with contrast stitching; pin-buckle clasp and is approximately 45mm round stainless steel case.
So why own a Swiss Army timepiece?
In our opinion, Victorinox Swiss Army makes a decent product. The watches are, in fact Swiss-made and don't try to pretend to be something the are not. They are long lasting, military inspired timepieces for people that don't want to break the bank. We approve of this company.
We would say that this is a watch for everyone.
With style and a generous amount of value for your money, we will recommend Swiss Army watches to those looking for a solid mechanical watch with sporty yet conservative looks.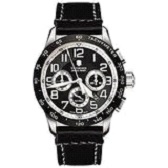 Victorinox Swiss Army Men's Professional Airboss Mach 6 Chrono Watch is another great mechanical self winding 44mm without crown watch. This watch has a noticeable design. Automatic with interesting visual back and a well defined dial and a comfortable leather band.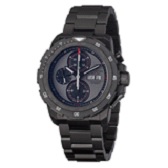 Swiss Army Men's 241573 'Alpnach' Black Dial Chronograph Automatic Watch is another winner. Case is 44mm in diameter x 15mm thick and the bracelet is 23mm wide x 8 inches long.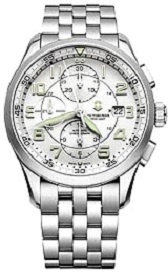 We LOVE the Victorinox Swiss Army AirBoss Mechanical Chronograph Men's watch #241621. This watch is brushed silver tone stainless steel bracelet with adjustable links and push button invisible double locking clasp. (Butterfly-Clasp) The watch width is 46mm and the face heights is 37mm. The watch comes with a white or black face.
Finally: Care of your Swiss Army Watch...
Manual winding: you must wind a simple mechanical watch daily and at a regular time in order to ensure the smooth running of your watch. All you have to do is turn the crown back and forth until you feel a slight resistance. To avoid damaging the mechanism, do not over-wind.
Automatic winding: mechanical self-winding watches wind themselves automatically when worn on the wrist. If your watch stops or is not worn for long enough periods, the movement will have to be wound manually by turning the crown back and forth a few times.
To maintain their accuracy (between -2 /+ 20 seconds per day), mechanical movements need regular maintenance and checks. Also, mechanical movements are much more sensitive than quartz movements to various parameters such as gravity, physical shocks due to the wearer's activities, magnetism, and temperature variations. Therefore, we recommend that our customers have the movement serviced and rate readjusted every 5 years.
If you are an owner of a mechanical watch, you should make sure you wear the watch for 8 to 10 hours a day to fully wind it. When fully wound, it will have a power reserve of 36 to 42 hours, ensuring continuous running.
How to use a quartz watch
The movement of a quartz watch is provided by a battery, eliminating the need to wind the watch manually. Therefore, in contrast a mechanical movement, the battery needs to be replaced. Normally, a battery should last approximately 24 months, but its lifespan depends on a number of factors. For example, a chronograph consumes more energy than a 3-hand timepiece, especially when the chronograph function is running constantly and is not stopped when switching to time mode. In this case, the battery life will be reduced by half.
On selected models, the battery end-of-life (EOL) indicator signals that the battery should be replaced within a few days. When the battery is low, the second hand stands still for 4 seconds then jumps to the correct time—or for digital displays, the indicator will blink in order to signal the need to replace the battery. This indication will last for approximately a week, then the watch hands will stop.
If you need to have the battery of your watch replaced, you should take it to an authorized Victorinox Swiss Army retailer or service center. Do not try to change the watch battery yourself.
How to clean your watch
To preserve the attractive appearance of the watch, clean the case and the steel or gold bracelet regularly in slightly soapy water, then rinse in clean water and dry with a soft cloth.
You can also use a toothbrush to clean your watch. Make sure you choose a brush with soft bristles to avoid scratching the watch case or bracelet.
To clean your leather strap, first rinse it under clean water then rub it with a soft brush and a little soap. Wipe with a soft cloth and leave it air-dry. Keep the cleaned leather away from any source of heat.
How to use your watch in water
Classification: Watches are classified by their degree of water-resistance, which roughly translates to the following: 1 meter = 3.28 feet
All Victorinox Swiss Army watches are water-resistant to between 50 meters and 500 meters. Check the details on the case back of your Victorinox Swiss Army watch and carefully read the table of water-resistance below.

Water-resistance chart
Meters
Feet
ATM
Usage
50
165
5
Suitable for showering or swimming in shallow water
100
330
10
Suitable for swimming or snorkeling
500
1650
50
Suitable for serious deep water diving

The water-resistance of your watch cannot be guaranteed indefinitely, as the gaskets may age, crowns or pushers may receive knocks and climate or temperature may vary. We therefore recommend that you have the water-resistance of your watch checked every 18 months or at least every time the case of the watch is opened.
Please remember to not operate pushers or the crown while your watch is underwater. Make sure that both are properly pushed back or screwed down.
Please call us TODAY for any service, maintenance, repair or purchase of your Swiss Army Timepiece.