Super Bowl Rings and what you might not have know about them
1) It's believed the first team-issued World Series Rings were presented to the 1922 New York Giants.
The ring contained a center diamond and was made of 14 carat white gold.
In 2011, Robert Edward Auctions offered a 1914 Boston Braves World Series ring in their auction. The 1914 ring may have been team issued since two player's rings are known to exist, however there's no proof these rings were team-issued. It's possible the two players had their rings made on their own.
Recently, Leland's auctioned a 1919 Ring, belonging to team manager Pat Moran. This ring, like the two from 1914, may have been a custom ring or made into a ring from an originally-presented pendant.
Starting in 1926, every World Series winning team has been awarded a ring. Presenting players and coaches with rings became mandatory, legend has it, when an owner in the 1940's threatened to stiff his team.
2) In 1956, Yankee players were given a choice:
They could have a 1956 World Series ring, or they could choose other gifts instead. The vast majority choose rings. One player who already had received a ring from a previous World Series chose a Yankee engraved silver tea set for his wife. Another player, Frank Crosetti, who was part of 17 World Series winners as a player and coach and felt he had enough rings. He decided he'd prefer an engraved shotgun. Surprisingly, the organization accommodated his wish.
3) The team that looses the World Series also receives a ring.
It's referred to as a National or American League Champions Ring. Sometimes they are as large and impressive as World Series winning rings.
4) Most World Series rings from the 1920's up until the early 1970's contained one center diamond.
The Yankees started the migration towards a "ring with bling" in 1976.
After a 12 year absence from the playoffs, the Bronx Bombers returned to the fall classic. Even though they were swept by the Reds, their American League Champion rings were made with diamonds in the shape of "NY". The following year, they beat the Dodgers in 6 games, and their world champion rings and diamonds were even larger.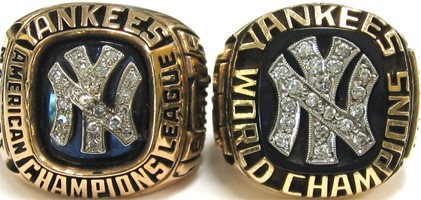 The BLING Revolution was started with the above rings in 1976. The ring to the left is from 1976 and the ring to the right is from 1977.
5) The largest World Series ring ever produced is the Marlins 2003 ring.
Made of 14-karat gold, the ring weighs 115 grams (over a quarter of a pound), contains 228 diamonds, 13 rubies and a rare teal diamond in the mascot's eye.
6) In 1996 the Yankees won their first World Series in 18 years.
Two years later they won again. Owner George Steinbrener issued plenty of rings to front office personal, scouts, operations staff, many other employees and friends. eBay was becoming a house-hold name and a few of these rings wound up on the auction site.
Steinbrener was so outranged that he scaled back ring production. The 1999 winning ring is much rarer, and the 2000 Champions ring is exceedingly scarce. Only players, select coaches and high-ranking executives received 2000 rings and as a result, they can sell for two or more times the going rate of the team's 1996 and 1998 rings.
7) Speaking of owners, Charley Finley presented a $3,800 ring topped with a full-carat diamond when his A's won the 1972 World Series.
He promised even bigger rings if the team repeated as champs. The A's did repeat, twice more, but each subsequent ring was topped with a modest green sapphire stone. Players never forgave Finley for the 1973 and 1974 diamond-lacking rings. Finley's side of the story was that he received only three thank-you notes for the 1972 rings and couldn't see rewarding such ingratitude.
8) Hollywood actor and bad-boy Charlie Sheen is a baseball memorabilia collector.
He had owned a T206 Honus Wagner card and the 1986 World Series' "Mookie Ball" and Bill Buckner's glove that missed it.
Perhaps his most impressive treasure is Babe Ruth's 1927 World Series ring. Industry experts estimate the ring's value would exceed a half a million dollars if it came up in an auction.
In 1999, Sotheby's sold what was believed to be Lou Gehrig's 1927 ring for $96,000. The ring originated from the famous collection of Barry Halper.
9) Yogi Berra has more World Series Rings than anyone.
As a player, he was awarded 10 World Series Champion Rings and four American League Championship rings (a.k.a. World Series Losing Rings).
Berra won at least seven more rings after retiring: As a coach and manager, he won three World Series champion rings with the Yankees and Mets and four League Championship rings. That brings him to 21 rings. As a Yankee legend and part of the Yankee family, he probably received five winning rings and possibly two American League rings from the Yankees since 1996. If he did receive these rings, that would bring his total to 28!
10) Balfour manufactured the New York Mets rings in 1986.
Over time, most of the rings have had some kind of chemical reaction occur behind the blue sapphire stone. This reaction (possibly oxidation) has caused the stone to show a non uniform color
Super Bowl XLVIII will be played on February 2 in New Jersey at MetLife Stadium, home of the New York Giants and New York Jets. The location is a bit controversial because of weather concerns. If a storm does wreak havoc on the Tri-State area, Super Bowl Sunday may be replaced by Super Bowl Saturday, Monday or Tuesday.
We at Village Watch Center know that your ring is very important to you and each jewelry piece and watch is very special to you and holds a special piece of your heart.
Contact us today for your free estimate on watch repair, clock repair, grandfather clock repair or jewelry service TODAY. Let us know how we can help you with a purchase and/or repair for yourself or that special someone today!