10 Best Luxury Watches - For All Pockets, deep and not so deep...
It's been said that the only acceptable jewelry for contemporary businessmen is the watch. They equate cuff links with the old guard, and bracelets are just a little too close to neck chains. And unless you're trying to sell rugs, anything gold and dangly is not appropriate accessorizing. Opinions may vary, but we can likely all agree on the value of a timepiece.
Here are 10 of my favorites that blend elegance with relative accessibility. These are current luxury models from prestigious watchmakers with enduring style; none overly contemporary, none excessively conservative. These aren't quite mass produced in sheer numbers to rival Swatch or Timex, but they're not the most expensive on the market. They're not necessarily the best known among casual watch enthusiasts, either. For instance, not a single Rolex made our list. They're fine timepieces, without question, but with only room for 10 examples, some assumed natural picks didn't make the cut.
Read on to learn which models did...
Number 10: TAG Heuer Kirium F1 - $3,000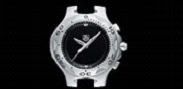 TAG Heuer loves sailing, racing or most any active pursuit of the good life. After all, this is the watchmaker who honored Steve McQueen's 75th birthday and their Le Mans film and race connections with the release of their Monaco Vintage timepiece. Still a trackside and driver favorite today, TAG Heuer hasn't missed a beat. At first glance, their Kirium F1 appears to be overly simplified — attractive, of course, but simple. In reality, it offers seven functions; both analog and digital time displays, 1/100th of a second chronograph, countdown, daily and diary alarm, perpetual calendar, second time zone, and dial backlighting. It also features an anti-reflective, scratch-resistant sapphire crystal surrounded by a stainless-steel case with a black rubber strap.
Just in case you unexpectedly find yourself in the drink, no worries — at least for the Kirium F1's well-being: It's water resistant down to 200 meters.
Number 9: Jaeger-LeCoultre Reverso Classique Grande Automatique $8,200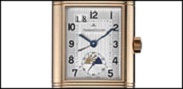 Although a number of respected watch makers do not appear in our review, we would be remiss to exclude Jaeger-LeCoultre. The firm has a history of blending innovation and style. The Reverso Grand Automatique is an excellent example. For those who are unfamiliar, the Reverso designation is just that: The stainless-steel case has the ability to be swiveled or reversed. The automatic movement features hour, minute, second, date, day/night indicator, and second time-zone — the latter, a thoughtful inclusion of a smaller hour hand. And just what function does the 30-meter water resistant Reverso perform, other than a neat trick to show off?
We can think of two primary functions, as a matter of fact. First, the crystal can be protected from damage (essentially a nod to times when watches were more fragile). Second — and perhaps even more important — there are times when you don't need to know the time to conduct yourself.
Number 8: Bulgari Ergon $15,000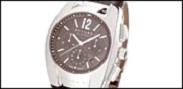 Like the aforementioned TAG Heuer, the Bulgari Ergon is another example of style doing the talking in the absence of a six-figure price. In this instance, curved form follows function and even lends itself to the name: ergo, Ergon. As the basic models in the line feature a scratch-resistant sapphire crystal, crocodile band and no-nonsense stainless-steel case (water-resistant to 30 meters), their sporting elegance defy gaudiness and befuddling functions most wearers grudgingly admit they never use — at least, with much success. Rather, only the very basic functions of hour, minute, second, and date are represented here. Still, rarely is such an uncomplicated timepiece so envied and admired. One could almost include "cool confidence" as a function.
Because time is money...
Number 7: Patek Philippe Celestial $194,200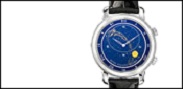 Rather than speculate whether the odd behavior of those around you is the result of a full moon, consult your Patek Philippe Celestial.
Yes, this self-winding model most certainly qualifies as a "grand" complication. Its face features a sky chart showing moon phases, lunar orbit, meridian passage time and star progression relative to Sirius (the star, you do realize). This 25-meter water resistant marvel features 45 jewels, 301 parts and a 48-hour maximum power reserve.
Oh yes, and it happens to tell time, if that's all you require of it.
Number 6: IWC Grande Complication $215,000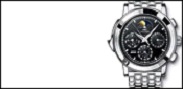 Another grand complication, IWC's Grande Complication earns its moniker in no uncertain terms (more on that in a second). "Exclusive" isn't weaved into the nomenclature, though it could be. Only 50 fortunate gents will acquire one of these each year — which happens to be confirmed in four-digit Gregorian form on the face (sorry, Julian fans). Additionally, the 659-part, 75-jewel, self-winding watch features a chronograph with minute repeater, convex sapphire crystal, crown-activated rapid calendar advance, perpetual calendar and moon phase display, and screw-in crown.
If situations dictate — and when don't they? — you can set it to chime on the hour, quarter-hour or every minute; the latter presumably serving as a CEO's rescue ring for unwelcome elevator pitches.
Number 5: Richard Mille RM 002-V2 Turbillon $240,000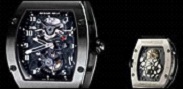 It's difficult to settle for a single model from this relative newcomer who's taken watchmaking to another level from day one in 1999. But first, let's make it perfectly clear that we're not gushing mindless praise at yet another corporate rebel of his particular industry. Having said that, owning a Richard Mille is a rare treat. Several models are offered, and as we said, singling one out is not easy. As a good example, the RM 002-V2 Turbillon, with its carbon nano-fiber construction, is what you might imagine as the outcome of the most avant-garde designers locked in a studio with NASA engineers.
To relay a few specifications in the allotted space we have here would do a great injustice to the several dozen other impressive characteristics. And that's just our non-gushing assessment.
Number 4: Parmigiani Fleurier Bugatti Type 370 $274,000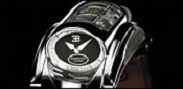 Granted, the Parmigiani Fleurier Bugatti Type 370 does retail for over a quarter-million dollars. However, it's only about one-quarter the going rate for the car it was designed to complement, the Bugatti Veyron. You've no doubt heard of the car's phenomenal performance; and the watch is quite impressive in its own right. Foremost, you can't ignore the unconventional display angle. This allows the wearer to check the time at a glance without lifting his hand from the wheel or turning his wrist. Not a bad idea when scorching the Earth at over 200 mph. The watch also pays tribute with an upright parts arrangement, to resemble an engine layout. Look closely through the six sapphire crystals held by the 18-carat white-gold case. You'll see movement wheels designed to replicate the design of Bugatti wheel rims of the 1930s.
Time is of the essence and these last three makers know that better than most...
Number 3: Breguet Double Tourbillon Classique Grande Complication $329,000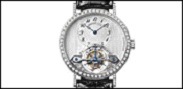 It's one thing when fine watches enjoy status among the rich and famous, but when you've been in the business since 1775 and your past customers include Marie Antoinette and Napoleon Bonaparte, you must be Breguet. You must also be the maker who patented the Tourbillon, designed to compensate for gravity and improve the watch movement's accuracy. You may just get the impression they have a knack for this watchmaking thing. With 50 hours of power, their Double Tourbillon Classique Grande Complication strikes an appealing harmony between sophistication and simplicity with a rotating textured center plate, turned by hand. An image of the solar system is hand engraved on the back of the movement. A case of platinum surrounds the 588 pieces and 69 jewels.
Number 2: Vacheron Constantin Skeleton Minute Repeater $623,000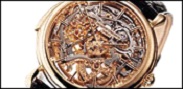 Henry Ford would not wear this watch. If he were still with us and the morbid name or heavenly price didn't deter him, its assembly definitely would. There are perhaps just a few more parts — moving or otherwise — at work here than in a Tin Lizzie, and it wasn't mass-produced on an assembly line. Any other captain of industry who can appreciate the thousands of hours spent in the creation of a Vacheron Constantin Skeleton Minute Repeater will wear one with pride. This 30-jewel timepiece has a 34-hour power reserve. Functions include hours, minutes, repeating hours, quarter-hours, and minutes by demand. So this is also not the ideal choice for feature-loving wearers, but if you appreciate craftsmanship over gizmos, this is one skeleton you won't want to keep in the closet.
Number 1: Girard-Perregaux Opera Three $630,000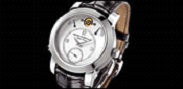 Desirability is understandably great for the Opera Three, and even at $630,000 we can envision hordes of the well-to-do camping out for the chance to buy one, iPhone-style. There's just a small flaw in that scenario. Girard-Perregaux position themselves as crafting "watches for the few since 1791." They're not about to change. For the especially privileged few who acquire one, life could be worse. Owners can let the arrival of each hour pass in silence or they can embrace it by allowing the Opera Three to play one of two personalized tunes on its (very) miniature carillon, somewhat like a diminutive music box — on your wrist — that cost over half a million.
Most of these watches cost more than your car
Like jewelry for men, displays of wealth should be understated for best results. When combining jewelry with a show of status, understated timepieces are a tastefully bold way of conveying the message. And you'll always be on time to boot.
We can get you any watch you need at a great price. Also, please bring us your special timepiece for maintenance and repair.