Grandfather Clocks are Timeless Treasures
Some gifts are timeless.
When you buy a grandfather clock, you are buying a gift that can last many lifetimes. Anyone who grew up with the sound of a grandfather clock in their home knows the sense of peacefulness or well-being they create with their unforgettable sound (tick-tock-tick). The purpose of this article is to lead you through the choices involved in purchasing a priceless gift. You will decide on the style, finish, placement in your home, size, chimes, features, price range, and manufacturer (warranty).
Feel free to contact Village Watch for all your purchase and repair needs.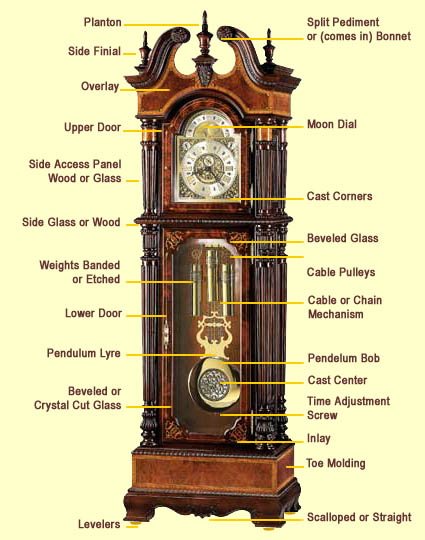 PLACEMENT IN YOUR HOME AND SIZE: This is a very important decision. You should decide where your grandfather clock will be located in your home or office. This decision will effect the style, finish, features, and size you choose. There are numerous locations in your home where you can place a grandfather clock. They can be used as a focal point of a home office, living room, library, music room, dining room, or hallway. They can be placed between two windows, on the landing of a staircase, in the middle or end of a hallway, or in the foyer. There is a broad range of sizes to choose from. The approximate dimensions can range in height from 75 - 94 inches, width 18 - 36 inches, and depth 10 - 21 inches. The size you choose will be contingent on the location you decide on.
STYLES: Grandfather Clock buyers have a number of styles to choose from that look comfortable in any home. A few of the styles are Mission and Shaker reproductions, Contemporary (on hardwoods) or the Traditional Style.
FINISHES: Just as with styles, you can choose between finishes that are either complimentary or contrasting with your furniture. The basic finishes are cherry and oak. These finishes vary greatly from Golden Oak to Scrubbed Oak and from Heirloom Cherry to Windsor Cherry. Many of the grandfather clocks are not one solid color. For example Howard Miller's Millennium Limited Edition clock, William R. Langford is finished in Windsor Cherry and it has other rare burl inlays that are lighter colors such as ash, sequoia, maple, holly, padauk, or thuya burl. Only one thousand of these clocks are produced.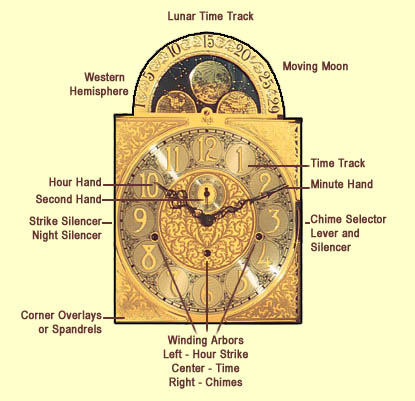 CHIMES AND OTHER FEATURES: The majority of grandfather clocks have standard features such as, cable driven chimes or Whittington chimes), automatic nighttime shut-off of chimes, locking door, brass pendulum and dial, arched or split pediments, beveled glass, and engraved brass plate.
Other features available are illuminated case, inscribed (special Millennium inscription) or antique cast of the dial or pendulum, inlays of rare burls, meticulous carvings (such as shell or floral patterns), different scenes gracing the moon phase on the dial (such as Subtle Currier and Ives-period scenes or Southern landscapes), or pirouetting couples on top of the dial. Hentschel allows you to choose from several options to customize your clock. You can add 9 tubular movement, full mirror back, interior light, choice of 8 finishes or custom finish, 3 piece wood panels, or 3 piece beveled glass.
PRICE RANGE: The clocks range in price from $700 to $13,000. The price will depend on the different features such as, chimes, inlays of rare burls, antique cast pendulums and dials, carvings, size, limited or numbered editions.
MANUFACTURERS: There are many clock manufacturers to choose from.
Here are some important questions to ask of a manufacturer before purchasing a clock:
How long have you been in business?
Hentschel was founded in 1890 and Howard Miller was founded in 1926. Those are the 2 big manufacturers of grandfather clocks.
Is there a warranty?
Howard Miller and Hentschel both have two year limited warranties.
Are there instructions on how to take care of my clock?
Instructions come with the clock and they include topics such as help line number, warranty, basic operation, maintenance (includes clock care), and service information. You can always call us if you have any help with setting up your clock or adjusting it.
Is there a help line to call if I have questions?
Both Howard Miller and Hentschel have help lines to answer any questions you may have.
Is the clock shipped directly from the manufacturer?
At Grandfather Clocks Plus, we ship our clocks direct from the manufacturer. Local customers can purchase at our two stores in Missouri, Eagan's Furniture.
What is your refund policy?
All merchandise is covered by a factory warranty and will be replaced or repaired at the manufacturer's discretion.
Who makes the movement for the clocks?
Howard Millers clock movements are made by Kieninger. (Their company was acquired by Howard Miller.) The Kieninger Clock Factory was founded in 1912 in the Black Forest of Germany by Joseph Kieninger and therefore is the oldest existing manufacturer of mechanical clock movements for grandfather, wall and mantel clocks in the world. Kieninger movements excel with a high level of design and manufacturing quality. Hentschel's clock movements are made in Germany by Hermle. Hermle was founded in 1922. They are still owned by the proud Hermle-family. They celebrated their 90th anniversary in 2012. Hermle is the world's largest manufacturer of mechanical & quartz timepieces and the leader for mechanical movements.
What is the main difference between Hentschel clocks manufacturing process and Howard Miller?
Howard Miller's Presidential series (top of the line) has these great advantages:
Carvings on the pediment, columns, above and on the case door, on the base, and on the feet made by a machine.
All the glass has a wood spline versus a rubber spline.
The dial, weights and pendulum are brass with stamped centers. The dial has stamped numbers.
The movement is a KSU movement that is 116 centimeters with brass bushings and thicker plates.
Howard Miller uses more lumber on all of their Presidential pieces.
The Presidential series at the factory is done on a separate assembly line. They get 3 times the attention of a normal Howard Miller clock.
Hentschel clocks are made with solid wood verses hardwoods and veneers by Howard Miller.
All the carvings on each clock are done by hand.
The dial, weights and pendulum are brass with milled centers. The dial has milled numbers. You can tell by the sharpness when you see a clock in person. There is a distinct difference.
The 1171 flagship movement by Hermle is in model numbers 3084 and up. It has heavy hammers, thicker plates and brass bushings. Hermle used to supply movements for Howard Miller clocks until they bought Keininger. This movement is the top of the line Hermle movement with superb sound and brass bushings and thicker plates.
All Hentschel clocks are made by hand with hand rubbed finishes. Their attention to detail is meticulous on each clock. Hentschel allows custom and optional wood finishes, low or high sheen for the finish, wood turnings, tubular chimes, mirror, light, brass caps for columns, solid brass dial, floral dial, wood or glass port doors or sides, sketched pendumlum, embossed, monogramed pendulum, and solid brass hinges (Howard Millers hinges are brass plated metal). On some clocks Hentschel will allow you to choose between gold or silver pendulum, weights and dial. Howard Miller does not allow you to make any changes in their products.
The back of Hentschel clocks are screwed in. Howard Millers clocks have stapled backs.
Now you know the factors to consider when you buy a grandfather clock this holiday season.
At Village Watch Center, we pride ourselves on giving you the personal attention you deserve.
We always have TIME for you.
We will help you make an informed decision on which clock to choose based on your individual needs.
We are happy to do a custom search based on your needs, wants and price range. We are here to explain all the features of the clocks you are looking at. We will also repair any and all Grandfather Clocks and in most cases give you a one year warranty on our work!