Grandfather Clocks Maintenance & Repair
Antique Grandfather Clocks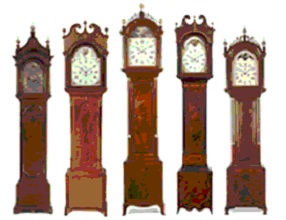 The most commonly recognized form of antique clock is typically referred to as a Grandfather clock. Known among collectors as "tall case clocks" or "tall clocks", these early American antique clocks range in size, but are normally around eight feet tall.
Considered a luxury item at their time of manufacture, antique grandfather clocks feature cases which are often constructed of vibrant, high quality hardwoods and can feature elaborate inlays, carving and paint decorations.
The American antique grandfather clock was produced in all of the original states and appears with great regional variety. The form began to dwindle in popularity by the 1830's, and was replaced by less expensive manufactured examples. Antique grandfather clocks can be found by hundreds of different early American clock makers. Despite their age, a properly maintained antique grandfather clock keeps surprisingly good time.
Grandfather clock repair
We at Village Watch Center firmly believe that every home should have a grandfather clock. They are so beautiful, but practical too. Whether your home is old or modern, large or small, cluttered or minimalist, it would be complemented by a grandfather clock, grandmother clock, or granddaughter clock. There are so many styles available that you will find one to blend in perfectly. One of my customers is delighted with the 1920's art deco model I was able to supply. Whereas others wouldn't dream of housing any clock made later than the eighteenth century.
You can't beat a beautiful grandfather clock
Did you know: According to the Oxford English Dictionary, the term "grandfather clock" came into common usage as late as 1876 as a result of the popularity of the song "My Grandfather's Clock". Previously, the term "longcase clock" was more usual. In the USA today, longcase or tallcase is still the usual name for grandfather clocks.
A clock is an investment and should be with you for life - most probably for generations - so its important to choose the right one.
Grandfather Clock Tip
If you have purchased a recently oiled and serviced grandfather clock for your home or office do not stand it in front of a radiator or within a two foot proximity. There is a possibility that this may have the affect of drying out the wooden case and causing a crack and also drying out the oil on the movement. If you take these simple preventative steps, the case will remain in good condition and the movement will not need oiling again for about five years.
Call us today! 617-812-4602 ask for Avi!